The Hajj to Mecca
The Hajj is the fifth pillar of worship in Islam.  It is a great journey in which class and race divisions do not exist.  All the pilgrims wear the same clothes and call with one voice, (Here I come, O God here I come) in response to Your Call, O God.  During the Hajj a Muslim performs actions and says words including remembering God, supplicating to Him, and showing one's deprivation and weakness to Him.
Abraham Calls
After building the Kabaa God ordered His Prophet Abraham, peace be upon him, to call people from all places to perform the Hajj.  This call to Hajj is answered by a large number of Muslims from many countries.
The World Answers
Prophet Muhammad, may the mercy and blessings of God be upon him, performed the Hajj together with 100,000 of his companions, confirming to them that he followed the path of Prophet Abraham, – spreading monotheism, maintaining the Kaaba, and calling people to perform the Hajj.  Approximately 3 million people from around the world perform the Hajj on an annual basis.
The Secrets of the Hajj
Islam confirms that the secret behind the Hajj experience is mentioning God with the tongue and in one's heart, and showing weakness and humbleness towards God Almighty.
3 million: The number of pilgrims yearly
6 The number of days of the Hajj
192,000 Workers
30,000 Doctors and nurses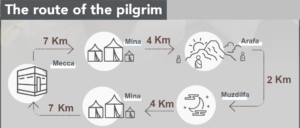 A0 size paper plate printed on glossy paper.