Here he is buried
It is here that the Messenger of Islam, Muhammad son of Abdul Allah, may the mercy and blessings of God be upon him, is buried.  The Messenger passed away on 8/6/632 AH in his home while resting on the chest of his wife Aisha, may God be pleased with her, and saying, "I wish to be with the righteous companions".   His closest of companions, the first and second Caliphs, Abu Bakr As Sadeeq and Umar ibn Al Khattab respectively, were later buried beside him when they passed away, may God be pleased with them.  Muslims pray for the Prophet Muhammad when visiting the Prophet's Mosque.
The Messenger's Home
Prophet Muhammad built his house beside the Mosque out of clay and palm trunks.  There are two doors, one to the west and the other to the north; there is no door handle, instead one knocks on the door.
The Messenger's Furniture
There was no furniture in the home of the Messenger of God except what one would find in the homes of the poor believers. History tells us that a Christian Arab chief by the name of Odi ibn Hatim visited Al Madinah and was invited by the Prophet to his home.  The Prophet couldn't find anything for his guest to sit on except for a single pillow made from straw.  He placed the pillow for his guest to sit on while he, may the mercy and blessings of God be upon him, sat on the floor.
The Green Dome
The Messenger's grave is surrounded by a number of walls and barriers.  They were built throughout history to protect the grave.  A green dome was built above him in 1279, which used to be blue in colour until it was fashioned in its current shape and green color, in 1873.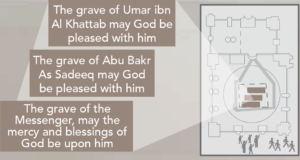 A0 size paper plate printed on glossy paper.